Call us today to book our duct cleaning services. Don't forget to ask about our web exclusive special offers!
Breath Easy with Interhome's Duct Cleaning Toronto Services
Interhome Duct Cleaning is a family run business with over a decade and a half of professional air duct cleaning experience. We have a reputation for excellence in residential duct cleaning, office and commercial duct cleaning. Our services also include furnace and dryer vent cleaning.
Our Interhome technicians are skilled duct cleaners, fully certified under NADAC, the national certification program for air systems cleaning specialist (ASCS), focusing on all aspects of HVAC cleaning systems including practical knowledge, industry codes, standards, principles of HVAC operation, and field experience. NADCA delivers the Certified Ventilation Inspector (CVI) training and certification programs for duct cleaners. It also delivers the training and certification for the Ventilation System Mold Remediator (VSMR).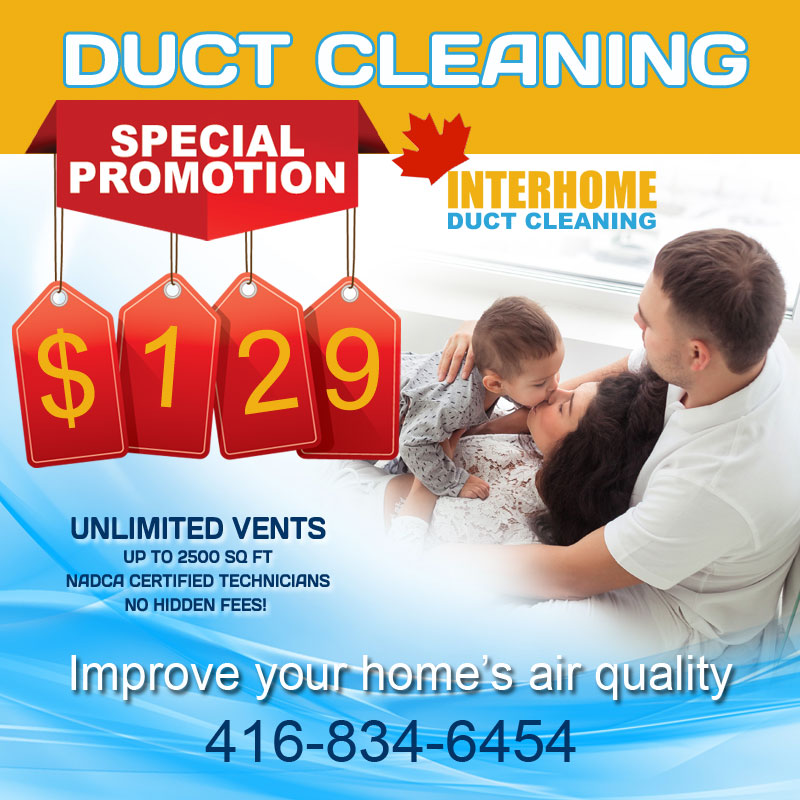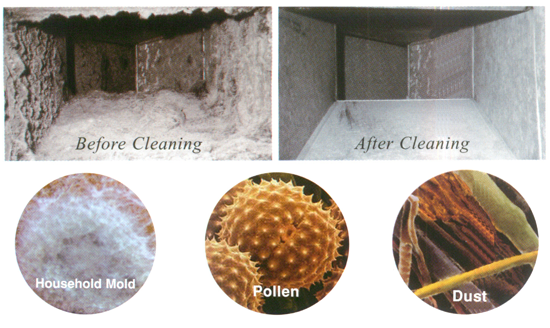 Duct cleaning removes air pollutants accumulated in your HVAC system like dust, mold, pet dander, pest droppings & other. By removing these contaminants duct cleaning improves indoor air quality and helps people with allergies, sinus problems, migraines and asthma to suffer less and breath easier. Interhome also provides sanitization and deodorizing services.
Interhome's Duct Cleaning Toronto services is laser focused on providing high quality interior air duct cleaning services. We use up to date and state of the art industry standards and equipment. We have specialized vacuum systems, truck mounted with high capacity vacuums, compressors, and suction hoses. We use infrared imaging and snake cameras to clearly see and assess the state of your heating ventilation and air conditioning (HVAC) system. From this assessment we will determine the cleaning process that best serves your needs.
The Air Duct Cleaning Process
A vacuum hose will be brought in to your house through your basement or, if need be, through your front door and down to the basement.
An air hose is run from the truck to the furthest air vent on the top floor.
The vacuum hose in the basement is inserted into the duct system through a hole that is cut the exact size of the vacuum hose.
Each supply and return vent is cleaned by pushing the dirt toward the vacuum collection unit and by using agitation tools and brushes
The truck mounted hose is turned on
Each vent is covered to create the greatest degree of suction and after sufficient pressure is built up in the air tank, the vents are cleaned using 250 psi of compressed air
Once the air vents are cleaned, we use air snakes and air whips inside the main ducts to work the remaining dirt back towards the vacuum
After thoroughly cleaning all the air handling parts, the access openings that we made to connect the vacuum are covered up and sealed tight.
We perform a FREE inspection of your furnace blower and AC coils. It is very important to clean the fan and coil during the duct cleaning procedure.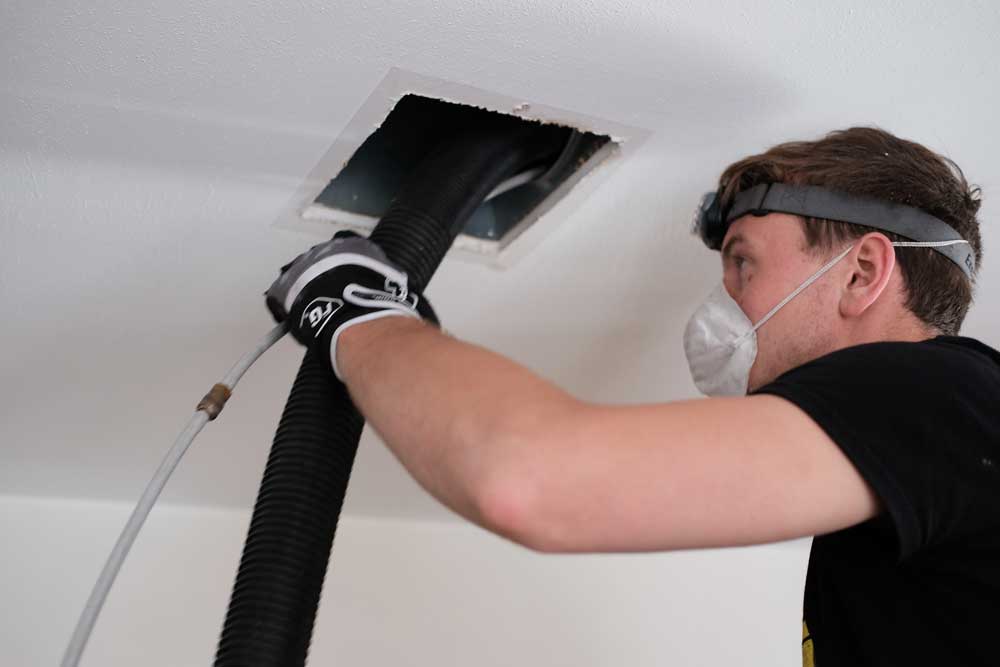 Interhome's duct cleaning crews carefully review your invoice and provide convenient payment options.
In addition, we'll explain current and future maintenance activities to help you maintain optimum performance of your HVAC system in the future.
For your piece of mind contact InterHome Duct Cleaning Toronto at 416-834-6454
We are available to take your call seven days a week from 8:00 AM to 8:00 PM.
Like clean water, clean and safe interior air should never be taken for granted. Protect your family, clients and employees with fresh clean air.
Why choose us?
Our company pays special attention to the details of every project to ensure the complete satisfaction of each client. Providing exceptional customer service is what we aim for.
Interhome was referred to us by our neighbour. They arrived on time, their service was professional, they did detailed work and even found a leak from one of our duct pipe which they sealed. I would hire them again.
Mary Demarco
I have used Interhome Duct Cleaning a couple of times through the years. They do a good job and they leave the house exactly as they found it, spotless.
Paul Grant
After our months long renovation we decided to have our ducts and vents cleaned to remove any dust and debris that found its way into the vents. The Interhome crew was friendly, showed us on the camera before and after the cleaning and overall we were very happy with their service. Definitely I will recommend to friends and family.
Christine Burke
Both my kids suffer from asthma and our doctor suggested that it would be worth having our HVAC duct cleaned and replace our filters too. I am happy I found Interhome, John was very informative on the phone and when he came with the crew he explained everything thoroughly and the process was painless.
Laura Kotsos
We contracted Interhome Duct Cleaning for our commercial property downtown Toronto. The assessment and recommendation process was eye opening to say the least. They honored their contract, stayed on time and were mindful of our budget. Would recommend.
Stephen Power